Grounds Maintenance Contract
We are seeking quotes for churchyard maintenance for 2022-4. You can find out more in our information pack. Deadline for bids: 5 pm on Mon 22nd November 2021.
Councillor Vacancy
Could you be Alvington's newest parish councilor? Take a look at our Application Pack to find out more about the role and apply. Deadline for applications: Wed 1st December at 5 pm.
Quiz and Pudding Night November 2021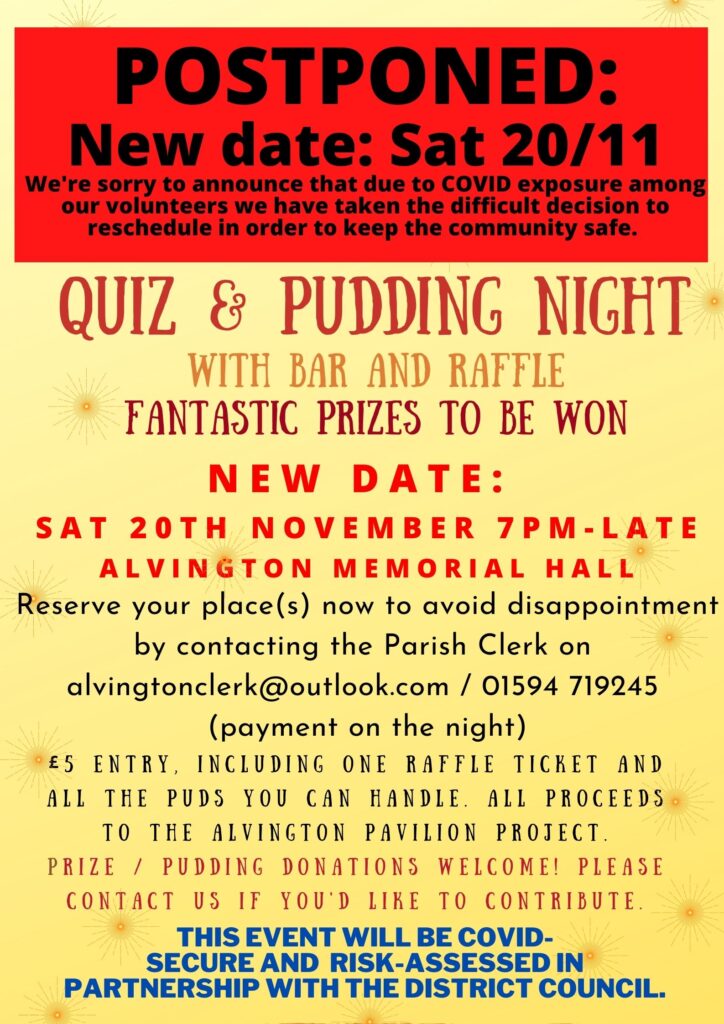 Latest news: visit our News page [opens in a new tab]
For all meeting dates see our Meetings: Calendar page. [opens in a new tab]
PARISH COUNCIL
The Council meets every month apart from January and August. Members of the public are welcome to attend.
Parish Clerk: Meg Humphries. Tel: 01594 719245
Email: alvingtonclerk@outlook.com

Councillors:
Alan Haslam (Chairman). Tel: 529837. Email: haslamhazelwood@btinternet.com
Cllr. Haslam Register of Members Interests
Richard Heys (Vice-Chairman). Tel: 07967709722. Email: richardheys3@gmail.com
Cllr. Heys Register of Members Interests
Gail Thompson. Tel: 01594 529708. Email: gail@xsound.uk
Cllr. Thompson Register of Members Interests
Nick Powell. Tel: 07581 551852. Email: nickpowell111@hotmail.com
Cllr Powell Register of Members Interests
VACANCY autumn 2021 – find out more and apply by viewing the application pack at the top of this page.
SNOW WARDEN: Roger Lewis. Tel: 01594 529 422. Email:
roger.lewis@btinternet.com
FLOOD WARDEN – VACANT. If you're interested in this voluntary role please contact Cllr Alan Haslam on 529837 for an informal chat and some more information.
DISTRICT COUNCIL
Cllr Chris McFarling. Tel: 01594 531225
Email: Chris.McFarling@fdean.gov.uk
COUNTY COUNCIL
Patrick Molyneux. Tel: 01594 529174.
Email: patrick.molyneux@gloucestershire.gov.uk
MEMBER OF PARLIAMENT
Mark Harper, MP. Tel: 01594 823482. Email: harperm@parliament.uk
POLICE
The Lydney neighbourhood team or phone 01452 753803 (Always call 999 in an emergency)