We are now accepting quotes for churchyard maintenance for 2022-4. You can find out more by reading our information pack.
Councillor Vacancy
Could you be Alvington's newest parish councilor? Take a look at our Application Pack below to find out more about the role and apply.
Quiz and Pudding Night Postponed
We're very sorry to announce that due to COVID exposure among our volunteers we have taken the difficult decision to reschedule this event. New date: Sat 20th November.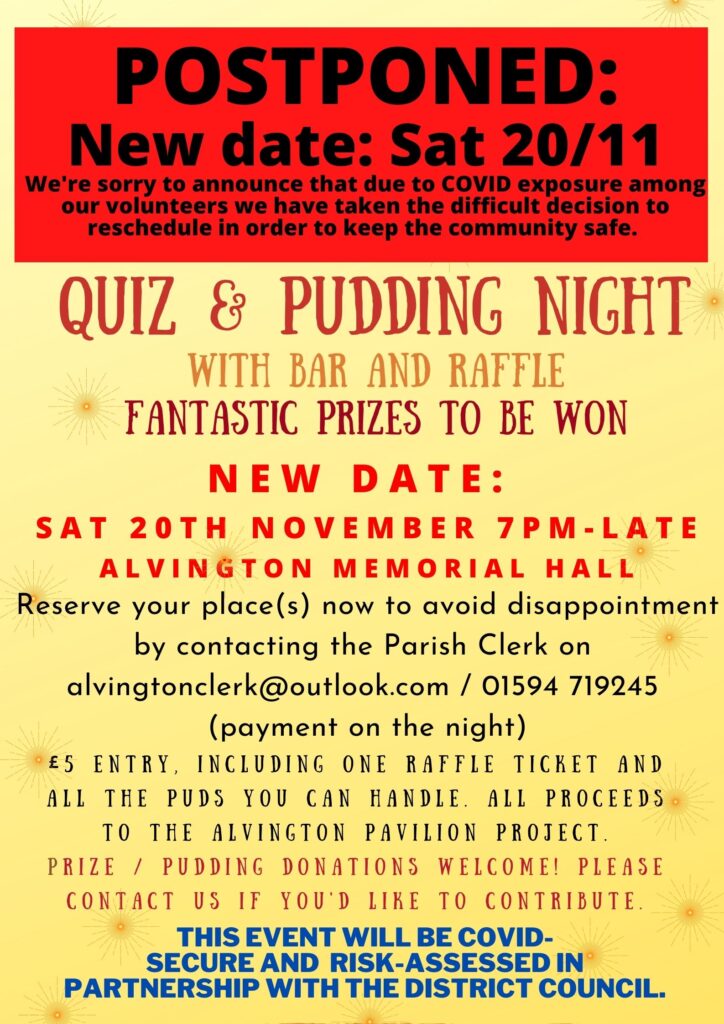 Latest news: visit our News page [opens in a new tab]
For all meeting dates see our Meetings: Calendar page. [opens in a new tab]
PARISH COUNCIL
The Council meets every month apart from January and August. Members of the public are welcome to attend.
Parish Clerk: Meg Humphries. Tel: 01594 719245
Email: alvingtonclerk@outlook.com

Councillors:
Alan Haslam (Chairman). Tel: 529837. Email: haslamhazelwood@btinternet.com
Cllr. Haslam Register of Members Interests
Richard Heys (Vice-Chairman). Tel: 07967709722. Email: richardheys3@gmail.com
Cllr. Heys Register of Members Interests
Gail Thompson. Tel: 01594 529708. Email: gail@xsound.uk
Cllr. Thompson Register of Members Interests
Nick Powell. Tel: 07581 551852. Email: nickpowell111@hotmail.com
Cllr Powell Register of Members Interests – coming soon
VACANCY autumn 2021 – find out more and apply by viewing the application pack at the top of this page.
SNOW WARDEN: Roger Lewis. Tel: 01594 529 422. Email:
roger.lewis@btinternet.com 
FLOOD WARDEN – VACANT. If you're interested in this voluntary role please contact Cllr Alan Haslam on 529837 for an informal chat and some more information.
DISTRICT COUNCIL
Cllr Chris McFarling. Tel: 01594 531225
Email: Chris.McFarling@fdean.gov.uk
COUNTY COUNCIL
Patrick Molyneux.  Tel: 01594 529174.
Email: patrick.molyneux@gloucestershire.gov.uk
MEMBER OF PARLIAMENT
Mark Harper, MP. Tel: 01594 823482. Email: harperm@parliament.uk
POLICE
The Lydney neighbourhood team or phone 01452 753803 (Always call 999 in an emergency)